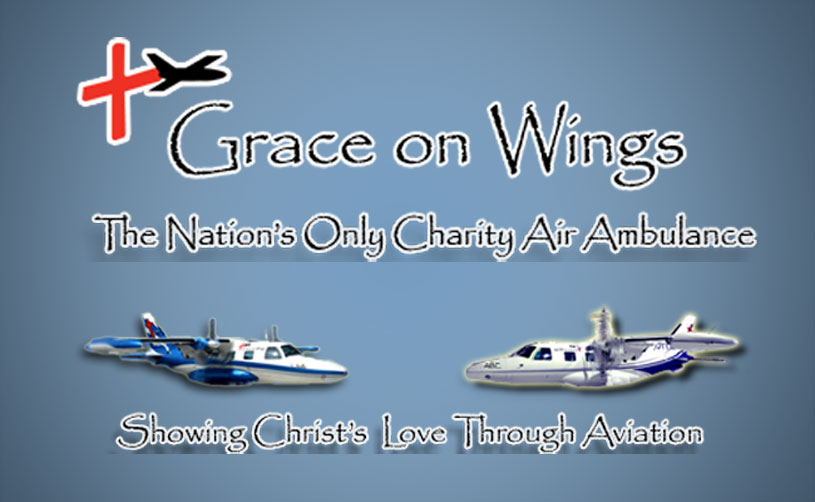 Gateway International & EMS L.L.C. has been working closely with the unique organization Grace on Wings. In an effort to continue our philosophy of being a company that makes a difference we have been focusing on assisting those in need. This begins with providing Grace on Wings our services free of charge. While our fees for arranging ambulances are low it can still mean a lot to the families of a loved one to save even a small amount.In a next step we will be looking towards our providers to identify which of these companies would also be willing to provide their services free of charge when it comes to a flight from Grace on Wings. 
However, the real credit goes to Grace on Wings. Their work allows hundreds of patients without insurance to be flown to specialized care facilities or back close to their loved ones. We would like to share one of their stories. This story is taken from their book" Answering the Call" . Learn more about Grace on Wings @ www.graceonwings.org
Disclaimer: Gateway Intl. EMS has removed the patient's full name in the below article.
Beckie's Story
In the spring of 2013, Beckie was diagnosed with a disease called Amyotrophic Lateral Sclerosis (ALS), a progressive neurodegenerative disease that affects nerve cells in the brain and spinal cord. When Beckie's condition took an unexpected turn for the worse, Grace on Wings answered the call for help.
I was familiar with ALS because of Lou Gehrig, nicknamed "The Iron Horse," a man generally considered one of the greatest baseball players of all time. He was renowned for his prowess as a hitter and for his durability, playing in 2,130 consecutive games. Yet, in my mind, the most powerful image his name conjures up is the scene in Yankee Stadium on July 4, 1939, where Gehrig gave his iconic speech, "The Luckiest Man on the Face of the Earth."
The transcript of the speech is only a few paragraphs long but filled with words of hope and courage. It began, "Fans, for the past two weeks you have been reading about the bad break I got. Yet today I consider myself the luckiest man on the face of this earth." He ends with, "So I close in saying that I may have had a tough break, but I have an awful lot to live for."
Although he died at age thirty-seven of ALS, the manner in which he dealt with the terminal disease is an inspiration to all. Patients with ALS, or "Lou Gehrig's Disease" as it is commonly known, have progressive loss of muscle strength, finally resulting in death when the muscles of respiration cease to function. The strength and courage they display in the face of death, as Lou Gehrig did, provide an example for us as we deal with adversity in our own lives.
In Beckie's case, the ALS was very aggressive. She became dependent on a BiPap machine, a device that delivers pressurized air through a mask to support the patient's breathing. Knowing the end was near, Beckie's husband wanted her to be able to spend the remaining days of her life in the presence of family. Thinking she had some time left before the end, he and Beckie decided to take an RV from their home in Paris, Illinois, to visit relatives in the northwestern part of the state, some 200 miles away from home.
Hal received a call from Beckie's husband, who said she had to be hospitalized in Moline, Illinois, when she was unable to support her breathing even with the assistance of the BiPap machine. She had already decided she did not want any heroic measures taken to sustain her life. She understood interventions such as placing a tube in her airway and putting her on a ventilator would not alter the course of her disease.
"Beckie's only wish," he said, "is to get back home to say her good-byes to her kids and grandkids."
The family had already explored ground transport. They were shocked to discover the cost of an ambulance transport would be more than $8,000 and would take approximately four hours to complete. They were very relieved, however, when Hal said the cost of a 45-minute flight from Galesburg, Illinois, to Terre Haute, Indiana, would be less than $3,000. Tami then set the transfer in motion.
During the transport, Beckie experienced a lot of difficulty breathing. "It was difficult to watch her struggle for each breath," Tami said, "but we were determined to get her home to fulfill her last wish."
Beckie survived the transport and was greeted at the airport by her loving family. She was taken to the Paris Community Hospital, where her husband was employed, and admitted for supportive care in her hometown. She died peacefully the following day.
God's Grace
Unbeknownst to the Grace on Wings crew, Beckie's family in Paris, Illinois, had contacted a local television station, WTHI Channel 10 in Terre Haute, Indiana. They wanted the public to hear about the mission to bring Beckie home to die in the presence of her family. Grace on Wings became the featuredstory on the broadcast the evening she died.
"God gives us the means to do the mission," Hal said to the reporter who interviewed him. "It is a privilege to serve others in his name."
Grace on Wings received an email from a member of Beckie's family shortly after her death.
"Just want to thank you guys for everything you did for my mother and our family! It was a true blessing to be able to have her flown back home to be with her loved ones. Unfortunately, she passed away early this morning. Without you guys she wouldn't have been able to be here with all of her family and friends. That was all she wanted and you made this possible!
You have no idea what this meant to all of us. May God bless each and every one of you and Grace onWings organization! Again, thank you so very much for your help Tuesday. You completed her wishes and allowed her to pass peacefully and that means everything in the world to us. If there is ever anything we can do to help out in any possible way please let us know. Thank you from the family of Beckie ."